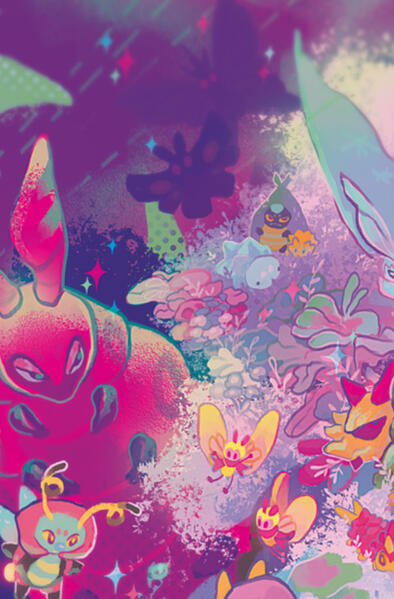 c o s m i c l o a k || ♡ || g l i m s p r o u t
LA based | mixed Afro-Latine | Queer Illustrator - Background Painter
♡Open to Freelance♡
♡UPCOMING CONVENTIONS♡
♡EU/UK customers♡ - email me to order from my bigcartel
✰Returns and exchangesI gladly accept returns and exchanges
Contact me within: 14 days of deliveryShip items back within: 30 days of deliveryI don't accept cancellations
But please contact me if you have any problems with your order.✰The following items can't be returned or exchangedBecause of the nature of these items, unless they arrive damaged or defective, I can't accept returns for:Custom or personalized orders
Perishable products (like food or flowers)
Digital downloads
Intimate items (for health/hygiene reasons)✰Returns and exchange details
EXCHANGES
• are only permissible for items of equal value on my shop and you must pay for shipping for both items exchanged.•If you ordered special deals such as "x2 items for $5" etc, cannot be exchanged.•Items that are sold out cannot be exchanged.✰REFUNDS•Refunds will be issued only in the case of shop error, and not for any other reason.•If the items have been shipped, no refunds can be given.✰DAMAGES/LOSSES?•I protect charms, prints, stickers with waterproof plastic baggies and cardboard to prevent damages.Beyond these measures, I am not responsible for damages/lost by the post office. In cases of lost/stolen items you will need to re-order item.I do my best to make the packages look inconspicuous to prevent theft.
Payment•I accept mainly card/PAYPAL payments
Shipping/Pre-Order FAQ?
•Scroll down to the gap of this page (bottom).Allergies?
•I do live with dogs, for those who have allergies please handle your packages with care.✰When do you ship orders?•I make one shipment a week.
Please allow a week for processing.If you need your order by a certain date, please leave a comment in the order and I will do my best to get it to you on time! Please understand due to life circumstances, I may ship a little later after purchase.I will email you if I unable to ship right away. I will make sure your order reaches you!•If you want something rush delivered, please try to order two weeks ahead before you need it.✰How long will it take for my order to reach me, is it tracked?• I ship all orders through USPS, no private mailers.•Stickers, small prints and charms are usually sent through first class mail within and outside of USA, so it can take two weeks or more.Purchases outside of USA have shipping costs since it requires more paid postage. If you want your order traceable please contact me to have this done (USA/outside USA).
•Larger items and multiple orders can take anywhere from 2 or more weeks to arrive and have shipping costs (these are tracked).•International shipping delivery times may vary between 2 and 12 weeks.✰Do You Accept International Orders?• I do, see "Can I get Tracking for my Order" FAQ.✰Can I get Tracking for my Order (USA+International)?• All prints are shipped with tracking / multiple items are tracked.•Stickers and charms are sent out via first class letter, and are not eligible for USPS tracking. It's too keep shipping inexpensive for small items. (USA+International)• (International) If you'd like your small items tracked, buy multiple items, they will be shipped in a cushion envelope+tracked. Otherwise, single order items will be shipped via first class letter.••••✰•Pre-Order info+FAQ✰BEFORE PURCHASING A PREORDER ITEM, PLEASE READ. BY PURCHASING A PREORDER ITEM, YOU ACKNOWLEDGE YOU HAVE READ AND AGREED TO THE FOLLOWING INFORMATION, AS WELL THE SHOP POLICIES ABOVE. Thank you!✰•What is a pre-order?
A pre-order is an order placed for an item which has not yet been released/manufactured.✰•Why should I pre-order?Through Pre-orders you are guaranteed to receive your item on (or shortly after) the date it's available. It ensures you get your item how you want it, as well as however many you want of it!You don't experience that nasty feeling of missing out because someone else snatched that cool thing before you. Your order is reserved for you so no hassles! Plus, you may find pre-order only goodies in your package, such as free/limited/seasonal only stickers,pins,buttons and more!-Pre-order bundles gets more bang outta your buck!Some items are impossible to make due to high production costs.-Fortunately, pre-orders allows me to create those high quality things by
covering those essential base expenses. By pre-ordering you help the
products you want become a reality!✰•How do I pre-order?-Add the pre-order to your cart
-check out like you normally would- and walk away! I will take care of the rest.
-payment is processed
-Then you'll be notified when your order is ready to be shipped!✰•When will I receive my pre-order?Production times vary, but you will receive your order as soon as it is ready to be shipped. On average, the preorder process takes about a month in total, so please be patient. I am the one person that manages this store, so delays are possible.✰• Where can I view the status of my order?Updates regarding the status of pre-ordered items will be announced publicly on my social media (IG/twitter). If you need help with your order, you can email me and I will try to back to you when possible.I may not be able to answer all inquiries about your purchase's status due to the potential high pre-order volume. If you do not hear back from me within a week, check the IG (especially the stories) or twitter for updates✰•What does it mean when an item is "pre-order only?"This means an item is ONLY available through pre-order, and there will be no more available once pre-orders are closed.✰• What happens if I purchase a pre-order item AND regular store item?
Your regular item will be held to combine ship with your pre-order item. If
you want your regular item sooner, you must order it separately.✰•IMPORTANT NOTES ABOUT PRE-ORDERS:
-Make sure your shipping address is updated and current, and permanent!Be absolutely sure you ordered in the correct quantity/size/ if you want a signature etc before checkout.-Understand it may take a while to receive your order, make sure you are okay with that.- If there is a mistake in the order, CONTACT ME ASAP and I will
refund you and have you place it again. This slows down the
manufacturing/shipment process by a lot (for you and everyone else).
Do not be that person. So please triple check your order and information to make sure everything is correct.✰✰✰• In Short...✰✰✰
If you want your purchase ASAP, pre-orders are not for you! However, if you don't mind some delay between purchase and shipment, you'll be helping support an independent artist live her dream while getting fab stuff in return!